About the Ukraine Refugee Sports Project
In March 2022, our charity launched its Ukraine Refugee Sports Project.
The project works by sending our team of specialised Coach Mentors to work with Ukrainian children aged 3 and above. By using a variety of sports including cricket, football, NFL Flag, handball and netball our Coach Mentors can ensure every child and young person can take part, feel part of a community and have fun.
Whilst the ongoing conflict in Ukraine continues to displace families, the demand for this project has continued to grow. Thanks to the incredible donations we have received our charity has been able to continue sending our delivery teams to locations where their support is needed.
Working in Przemyśl, Poland
Przemyśl is a town in Poland located just 9-miles from the Ukrainian border. It's proximity to the border has made it a refuge point for thousands of Ukrainian families fleeing across the border.
In Przemyśl, there is a converted TESCO supermarket building that has become a refugee centre for families as they try and organise VISA's and transport into other European countries.
Our team of Coach Mentors have been delivering a variety of sports sessions to Ukrainian children using the grassy outdoor areas located next to the TESCO building.
For many parents the provision of our sports sessions allows them to have some respite. Having the children in the care of our Coach Mentors also allows parents to find time to organise transport and VISA's into Europe.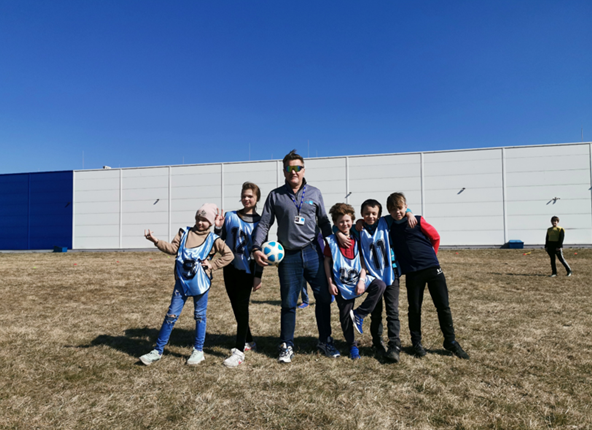 Summer Sports Camps In Sussex
It's estimated that over 2.2 million Ukrainian children have been displaced by the conflict. The UK alone has taken in over 10,000 Ukrainian children aged 4-15.
With summer holidays approaching, these young people are going to be faced with weeks of uncertainty with many with of them having limited English speaking skills or none at all.
Our charity will be running summer sports camps throughout August and July to accommodate Ukrainian children now living in the South-East of the UK.
The three-day sports camps will allow over 100 Ukrainian children and their families to take part in fun, engaging and inclusive sports activities alongside other Ukrainians that have shared the same life-changing experiences as them over the past few months.