The Cricket Centre is a unique and private space with excellent sports and event facilities. As a community based charity in Wallington in Sutton, Surrey the centre welcomes all enquiries regarding public use.
Our venue is perfect for sports event hire, business meetings, training events, corporate staff days, private parties, weddings and christening receptions. 
Our centre acts as the hub of our charity. The excellent condition of our cricket lawn allows us to host our Refugee Cricket programme and Walking Sports programme all year round.
We also host graduation ceremonies, VI Rugby events and regional cricket events from our centre due to the excellent locker room, kitchen and washroom facilities. Additional centre facilities also include…
Lift platform access to allow easy access to the upper floor
Disabled access down to the cricket lawns
Wi-fi along with basic office services performed by our staff for a small surcharge
Excellent links to a local high-quality catering company
Kitchen facilities available to provide light refreshments
Parking includes 25 spaces including two disabled bay
Our training and conference room can seat up to 44 people. Equipped with modular tables it's easy to create a theatre, classroom, boardroom or U-shaped seating formation.
This room also provides an excellent break-out room for larger training sessions and conferences held in the Tuffers Bar.
Hire these facilities using the contact form at the bottom of this page.
Flooded by natural light from glass doors leading onto our balcony, the view from Tuffers Bar overlooks the entire cricket ground.

This contemporary relaxation and socialising space has a licensed bar area and a café style feel. Equipped with a TV and DVD player with laptop connections, you can easily show you own presentations.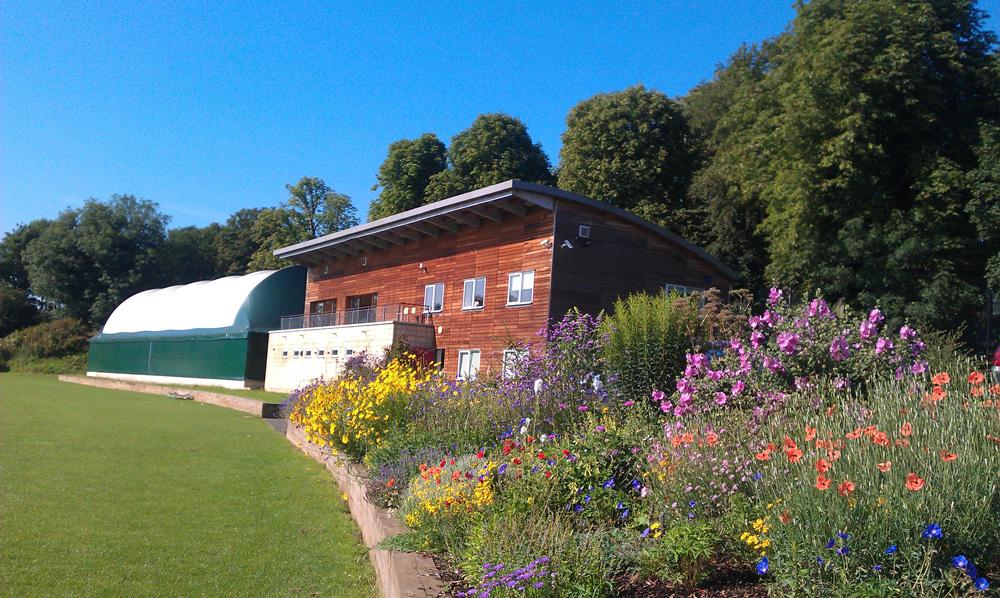 "THIS IS THE FIRST TIME I'VE EVER HEARD OF A NETBALL PROGRAMME BEING SPECIFICALLY DESIGNED TO SUPPORT PLAYERS OVER THE AGE OF 50." 
The Change Foundation deliver three walking sports sessions each week which include walking football, cricket and netball. 93 local residents over the age of 50 attend the walking sports clubs, helping them improve their physical and mental health while providing an opportunity for socialising and networking.
Sessions take place at our Cricket Centre every week:
Walking Netball – Wednesdays 10.15am – 11.30am
Walking Football – Wednesdays 10.15am – 11.30am
Walking Cricket – Mondays 10.00am – 11.30am
Intergenerational Table Tennis – Fridays 10:00am – 11:30am
Our Indoor Cricket Nets are custom built state-of-the art facilities. The facilities include…  
Two Net Lanes at 30m+
Excellent Lighting
Weave on Top Mat Surface (ECB Recommended)
Surface similar to that used at Lord's Indoor School
Offers bounce for quick Bowlers
Provides excellent grip for Spinners
Ideal for all levels of cricketer
Please note: The indoor cricket net area is also available to hire to any community group looking for an indoor venue to run any planned (non-cricket related) events or regular activities.
Booking information
Bookings must be made in advance.

Max 6 people per net

Hirer to supply own equipment but stumps are included.
Booking Times and Prices
Hire fee
Off Peak (Mon-Fri 9am to 5pm) £26 per hour per net.
Peak (Mon-Fri after 5pm to 10pm and Sat & Sun 9am-10pm) £32 per hour per net.
Terms and Conditions: PLEASE READ
Book below ↓
Hire Our Cricket Ground or Pitch
The perfect venue for company team days.
A Creative Space With A Difference
Running activities or events for a large number of people.
Our outdoor cricket pitch can be hired in the summer and winter as the perfect venue for company team days, company BBQ's and cricket matches. We particularly welcome the use of local community groups, clubs and schools.
The highly maintained cricket ground is an ideal location for cricket and running activities or events for a large number of people.